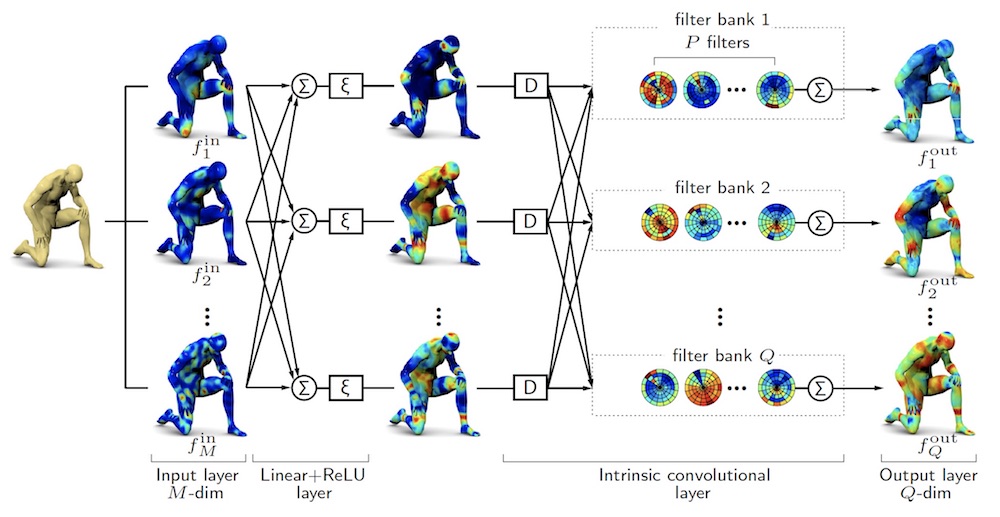 The past decade in computer vision research has witnessed the emergence of deep learning, allowing to automatically learn powerful feature representations from large collections of examples. Deep neural networks achieved a breakthrough in performance in a wide range of applications such as image classification, segmentation, detection and annotation. When attempting to apply deep learning to 3D geometric data, one has to face fundamental differences between images and geometric objects. One of the key differences is that in the geometry processing and computer graphics communities, shapes are modeled as manifolds, and one requires to generalize deep neural networks using intrinsic constructions. Intrinsic deep neural networks have recently been used to learn invariant shape features and correspondence, allowing to achieve state-of-the-art performance in several shape analysis tasks, while at the same time allowing for different shape representations, e.g. meshes, point clouds, or graphs. The purpose of this tutorial is to overview the foundations and the current state of the art in learning techniques for 3D shape analysis and vision. We will overview deep learning techniques for tasks of shape classification, object recognition, retrieval and correspondence. The tutorial will present in a new light the problems of shape analysis, emphasizing the analogies and differences with the classical 2D setting, and showing how to adapt popular learning schemes in order to deal with deformable objects. An emphasis will be made on relation to classical methods in shape analysis, such as spectral descriptors and functional maps.
Recorded: 9:15am 8th July 2018 ( video, Video (Archive))
Bio: Michael Bronstein (PhD with distinction 2007, Technion, Israel) is a professor at USI Lugano, Switzerland and Tel Aviv University, Israel. He also serves as a Principal Engineer at Intel Perceptual Computing. During 2017-2018 he is a fellow at the Radcliffe Institute for Advanced Study at Harvard University. Michael's main research interest is in theoretical and computational methods for geometric data analysis. He authored over 150 papers, the book Numerical geometry of non-rigid shapes (Springer 2008), and over 20 granted patents. He was awarded three ERC grants, two Google Faculty Research awards (2015, 2017), and Rudolf Diesel fellowship (2017) at TU Munich. He was invited as a Young Scientist to the World Economic Forum, an honor bestowed on forty world's leading scientists under the age of forty. Michael is a Senior Member of the IEEE, alumnus of the Technion Excellence Program and the Academy of Achievement, ACM Distinguished Speaker, and a member of the Young Academy of Europe. In addition to academic work, Michael is actively involved in commercial technology development and consulting to start-up companies. He was a co-founder and technology executive at Novafora (2005-2009) developing large-scale video analysis methods, and one of the chief technologists at Invision (2009-2012) developing low-cost 3D sensors. Following the multi-million acquisition of Invision by Intel in 2012, Michael has been one of the key developers of the Intel RealSense technology.